for 2011:
Turboprop manufacturer ATR doubled its order intake in 2011, selling 157 of its regional aircraft which comfortably eclipsed 2010's total of 80.

With its backlog now standing at 224, worth $5 billion, it is also well-ahead of Canadian rival Bombardier, where sales of the Q400 have been virtually non-existent and backlog stands at just 29 aircraft.

In 2011 the company took orders for 13 ATR 42s and 144 ATR 72s, giving the airframer an 80% market share. Order intake was 40% above its previous record year in 2007.

The company also holds options for a further 79 aircraft.

It delivered 54 units during the period, against 51 a year earlier, including its first ATR 72-600.

ATR recorded revenue of $1.3 billion in 2011.
The ATR has very handily outpaced Bombardier's Q400, despite the Q400 being regarded as a "better" aircraft in many aspects. More analysis on that soon.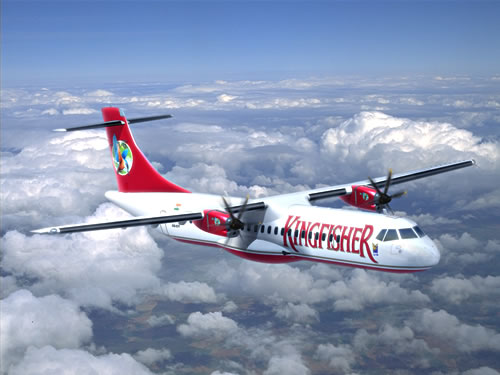 Kingfisher Airlines ATR 72-500
In ATR's announcement, some planes which I expected to be counted in the backlog were not. They are the 38 ATR  72-500s that Kingfisher Airlines had on order. These airplanes are nowhere to be seen in the order backlog.
FlightGlobal Editor Dominic Perry
had an explanation to why the orders are missing from the backlog: they have been cancelled because it hadn't met the pre-delivery payment schedule which it had agreed to. ATR says that Kingfisher is "not in a financial position to take the aircraft anytime soon."
It's no secret that Kingfisher Airlines' has been going through some very difficult financial times
, with recent repos of some of its fleet by lessors and almost 1/2 of its fleet grounded due to lack of spare parts. Therefore, it's not much of a surprise.
Just another step on Kingfisher's journey to bankruptcy.